It's time for a Just Transition Join Us. Sign up!
THE GREEN PATH
The Indigenous Just Transition
In our Anishinaabeg Prophecies, this time is known as the time of the Seventh Fire.  In this time, we are told we will face a choice between two paths - one well-worn and scorched and a second not well worn and green.  It will be our choice upon which path to embark. The Just Transition, we are choosing the green path and lighting the Eighth Fire by heralding in a restorative and regenerative kind just economy.
The Green New Deal or a massive retooling of America's infrastructure, energy and future is essential, and we see it happening.  Let's put wind in those sails. Across the continent communities are moving towards solar energy, efficiency, local foods and preparing for climate change. And, we know that while transition is inevitable, justice is not. That's the basics. "Just transition" is a framework for a fair shift to an economy that is ecologically sustainable, equitable and just for all.
It's a transformation which requires government action, de-militarization, and social transformation.
It is necessarily local and also global.
We didn't leave the stone age because we ran out of rocks. It's time for the energy transition.

Today, we waste over 60% of our energy in inefficient systems, from combustion engines to long power lines and old coal generation.
That's energy we could not produce. How about we move on? After all, Denmark passed the 50% renewable mark in 2019, and plans more wind than ever- they are putting up 2 and 3 megawatt turbines.
Windy place, nice country.

That's the Indigenous Green New Deal, the 8th Fire.
Ways of a Fundamental Just Transition
1 Respect Indigenous Knowledge
The original Green New Deal was Indigenous, it was land based and worldwide. Fossil fuels are a hundred year aberration, not the norm. Sadly, Indigenous knowledge has been persecuted, the people who have that knowledge wiped out by smallpox and sport. That knowledge is precious.
They found in Australia fires burned 57% fewer acres than in previous years, where Aboriginal people managed land for fire. Contrary to the "economies of scale" argument, this is the economics of Mother Earth, that's the future: small, labor intensive burns, attentive to place, ecology, and the natural world.
From the Amazon to California and Australia, carbon is sequestered much better by Native people than by governments. Since we represent 4% of the world's population, yet steward 75% of the world's biodiversity, it's time to support Indigenous land, treaty and human rights.
That's not a technological fix, that's a political reality.
Indigenous Knowledge is a good place to start. That's to say, the knowledge of how to respect and abide by the laws of Mother Earth, rather than the laws of Man.  We know it's time to be mindful, caring, grateful, and responsible.  We see the new economy unfolding and know that change is inevitable, it's a question of who controls the change. This is a time for community solar, food, and Rights of Nature. This is the time to make that beautiful future, don't wait.
This is a time for community solar, food, and Rights of Nature.
This is the time to make that beautiful future, don't wait.
2 Waste Less: We presently waste about 60% of the energy produced, in inefficient systems, long distance transmission (economies of scale), and poor energy conversions. Take transportation- a combustion engine is 16% efficient, an electric engine is 65% efficient. We need to move to electric engines, but we need to move less, and re-localize. Fossil fuel plastics generate a toxic mess for this world. End single use containers or make them out of hemp. Don't waste 40% of our food, keep it local. Time to move on.
3 Respect Energy
We consume massive amounts of fossil fuels, and waste about 60% of our energy between point of origin and point of consumption.  Consume less, produce less, and produce more locally. In fact, try and power more yourself, like walking or bikes and hoeing. That's what you do in a garden. Do more hoeing and power your laptop with your exercise bicycle.  A combustion engine is 16% efficient, an electric engine is 65% efficient. Move on.
Energy Justice: The Department of Energy estimates that wind power from tribal lands could satisfy 32 percent of the total U.S. electricity demand. Solar production from Indian lands could generate enough energy to power the country two times over. The next economy must be owned by the people who produce it, and be on the terms of those people. That's what a just transition looks like.   The Kayenta Solar Project produces 27 megawatts of power, and as coal generation comes to an end, tribes should be capitalized to use that infrastructure for larger scale renewables.  The Akiing 8th Fire Solar Project on the White Earth reservation is just coming on line to provide solar thermal panels to homes everywhere.  
The next economy is here. www.8thfiresolar.org
That's what a just transition looks like.
The Kayenta Solar Project produces 27-megawatts of power, and as coal generation comes to an end, tribes should be capitalized to use that infrastructure for larger scale renewables. The Standing Rock Sioux put up the first utility scale solar project in North Dakota. 8th Fire solar is making solar thermal panels which can reduce a heat bill by 15%, that's smart technology.
That's just the beginning.
In the time of climate crisis, the whole world is trying to figure out how to cut carbon emissions here in Minnesota we are trying to figure out how to put in a whole new pipeline to create more carbon. Enbridge's Line 3 represents adding 50 new coal fired power plants, or 220 million metric tons of carbon annually to the environment. That's a bad idea for us all. Stop Line 3 
Did you know that Enbridge is the single largest energy consumer in Minnesota.  Enbridge's seven pipes, a part of Enbridge's main line, carry 75% of the tar sands into the United States. That's some dirty oil. Tar sands, basically hot asphalt with some more chemicals in it, takes a lot of energy to move. It's time to stop wasting energy for a dirty future. Every pumping station could power a small town, but we are all busy burning coal, and flooding with hydro power to keep Enbridge's dirty oil moving.  That's a lot of energy we could use more wisely.
Real Energy Security:
If Enbridge would use the $7-billion it is investing in Line 3 for renewables, we could get the following: ll6,000 five kilowatt photovoltaic units for as many homes, 582 two megawatt wind turbines, and 290,000 homes provided with solar heating. 
That's energy independence and security. Instead, Line 3 represents the carbon equivalent of 50 new coal fired generators in a time of climate chaos.  
Infrastructure for the Future
Make infrastructure for people, not for oil companies. Today, American water and sewer infrastructure crumbles, take the case of Flint Michigan for example. What we need is pipes for people, not for tar sands oil.  Then we need to rebuild the backbone of American  transportation infrastructure: the trains.
4 Solutionary Rail - The Backbone of Infrastructure:
Worldwide, electricity serves nearly a quarter of railroad track miles and supplies over one-third of the energy that powers trains. China has 41% of the country' lines electrified; Italy, 68%. But in the U.S., under 1 percent of tracks are electrified. There's a national plan called Solutionary Rail.   www.thebackbonecampaign.org
Solutionary Rail proposes to not only electrify the rail lines, but also to put renewable energy transmission access along these same powerlines. The rest of the world has trains. Really, good trains- the Orient Express, the trains of Europe, the Alps, are all legendary and epic. We could be the same. And we could transform the economy.
5 Grow Food
Eat Local food, grow diverse varieties, use as much energy as possible from this era, not the Jurassic era. Go organic.  Organic agriculture sequesters carbon, and getting fossil fuels and glyphosate out of your meal plan means a healthier life. Indigenous, heritage, and non GMO seeds are pre and post petroleum reaffirmations of love and reverence.  Rematriate seeds and give them love.  Support local farmers and turn your lawn into a garden and bee sanctuary.  Restore health. 
Groups like the Native American Food Sovereignty Alliance (www.nativefoodalliance.org) and Native Seed Keepers (www.allianceofnativeseedkeepers.com) make the difference.
Cannabis and Hemp: Cannabis is one of the most magical plants known in this world, with l0,000 uses. Cannabis is the root for the word, Canvas. That's to say that a textile economy which is almost entirely predicated on fossil fuels (nylon, polyester, rayon) is toxic, and getting more so.  We need a return to natural fibers. Cannabis can sequester carbon twice as fast as forests in growth and in use.  The cannabis economy is a green economy which can replace much concrete in building, provide textile and materials economy inputs while creating local jobs.  a textile industry with integrity and quality. Encourage quality over quantity. Make sure that people of color and Native people are able to benefit from this new economy. www.anishinaabeag.org
6 De-Militarize and Make it Beautiful
The US Military is the largest polluter in the world, and also the largest user of both fossil fuels and renewable energy. It's time to not only cut wasteful military spending, but actually deploy the military in the homeland security  during climate change. That means infrastructure, firefighting, flood and disaster prevention and solving problems, not making them.  There are a lot of people in the military who want to be heroes. 
7 The Future is Here
$25-billion has been invested in Canada's clean-energy sector in the past five years, and employment is up 37 per cent. The 23,700 people who work in green energy outnumber the 22,340 whose work relates to the oil sands. Renewable energy is the fastest growing sector in energy worldwide. Fossil fuel divestment has reached over $5 trillion. The Time is now to invest in an Indigenous Just Transition. 
---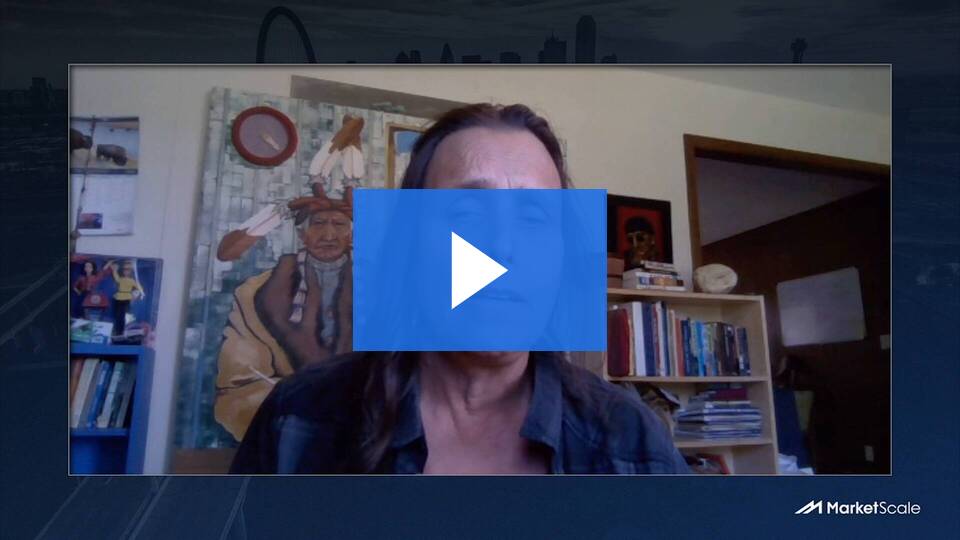 Why Pipelines Are Becoming Bad Business for the US Oil Industry | MarketScale - By Daniel Litwin - August 11, 2020
"Pipelines are a risky business, you know? And just to be clear, like to me, this is really not just a pipeline question. It's a question of infrastructure," LaDuke said. She emphasized that pipes are a necessity, but not for oil companies, "We do need pipes, we do need pipes, but we need pipes that are like water and sewer pipes. We don't need pipes for oil companies. And so it's a question of, you know, how are you going to spend your infrastructure money?"

For LaDuke, green energy is the best path forward for the industry. "It's the end of an era. So anything you're going to try to put in is going to be pretty much a last [ditch] effort. And the cost overruns of every project, you know, for the fantasy of a pipeline has been so egregious," LaDuke noted.

LaDuke is optimistic that green energy will provide job opportunities, which is especially valuable in light of recent events. "One of the many things taught to us by the COVID pandemic is that we make everything in China," she explained. LaDuke believes we need to make renewable energy in the US instead of importing parts from other countries. "We need to rebuild an industrial sector in this country. That makes sense. And that's what the new green revolution is. That's the one I'm part of."

Transition is inevitable, justice in this time is not, but we can change that.

These are the principals of an indigenous just transition.

Just transition is a framework for a fair shift to an economy ecologically, sustainable, equitable and just for all.

---

It's time to protect our water and honor the Earth. 

"A new world is coming, if you listen you can hear her breathing…" Arundati Roy

It's time for a Just Transition Join Us. 

SIGN THE PLEDGE OR SHARE OUR BROCHURE (CLICK HERE TO PRINT OR EMAIL)

---

Anyone want to put up our billboard? That's the question. 

The Husky Refinery in Superior Wisconsin is a dangerous one. That's to say that in 2018, the refinery had an explosion which was scary

On April 26, 2018, an explosion and fire at the Husky Refinery spread within 200 feet of a large tank of hydrogen fluoride, a disaster-potential chemical that can be lethal if breathed in and can burn skin on contact. It could have been a major catastrophe, causing a "dense cold killing cloud" that would have put l80,000 people at risk (Star Tribune). We are all lucky that didn't blow. 

Being concerned citizens, Twin Ports Action and Honor the Earth put together two different billboard proposals, to place in Superior.We thought that it was a public service to point out the giant lethal dangerous refinery, but seems like Lamar advertising thought that we were fear mongering.Reality can be scary.
"We will not post copy that promotes a negative impression of a specific entity or promote fear," the  company explains.
Anyone want to help us get this billboard up in Superior? Anyone got a billboard we can use?

And anyone want to help pay for it or maybe some safety minded company could just donate one. 

We also came up with a Husky Lite version.

Contact us at [email protected] if you want to help us get the billboard up. 

It's time to move on

That refinery is old, small and should just close.

The Just Transition is now. 

---
Who's joining

Lesley Gamble

Alissa Cugliari

Helen Apthorp

Amber Amber

Carolyn Corbin

Hava Chishti

Ellie Griffin

Patrick Scott

Sasha Joachims

Sierra Wilder

Ainsley Kelly

Susan Nossal

Ellen Hinchcliffe

Angelina Manriquez

Claudia Foster

Michelle Wenderlich

Rachel Leip

Dorothy Janick

Debora Kodish

Cali Anicha

Dani DiTomassi

Anastasia Sagorsky

Myrriah Osborne

Richard Scott

Paula Dyan

Katherine Wilcox

Nelia Sargent

Jana Studelska

Devon Shahana Beckett

七迎一号大本营 七迎事与一号