On February 1, 2016, four enrolled Ojibwe band members given citations last summer for exercising their treaty rights, appeared in court and pled not guilty, with a pre-trial conference scheduled for April 26, 2016.  The MN Department of Natural Resources (DNR) gave the 4 citations on August 28, 2015.  Two were cited for harvesting wild rice on Hole in the Day Lake without a Minnesota DNR permit (Morningstar and Harvey Goodsky) and two were cited for casting a gill net on Gull Lake (Todd Thompson and Jim Northrup).  The four individuals were exercising their constitutionally-protected right to subsist off the land in the 1855 Treaty area.  The civil disobedience action was organized by the 1855 Treaty Authority in an effort to have these rights clarified and validated by federal courts. 
Members of the Anishinaabe bands that signed the 1855 Treaty retain the rights to hunt, fish, gather, travel, and maintain sacred sites on the land ceded to the US government. These rights have not always been exercised or respected. The Anishinaabe are now standing up to assert these rights, in hopes of affirming them once and for all in federal court.   This is likely the beginning of a historic court battle.  Honor the Earth Attorney Frank Bibeau and White Earth Nation Attorney Joe Plummer are representing the four harvesters.  
This is also a critical strategy for giving tribal people a voice in important land use decisions such as the construction of new oil pipelines or mines, and a federal decision would have enormous implications for treaty rights across the country.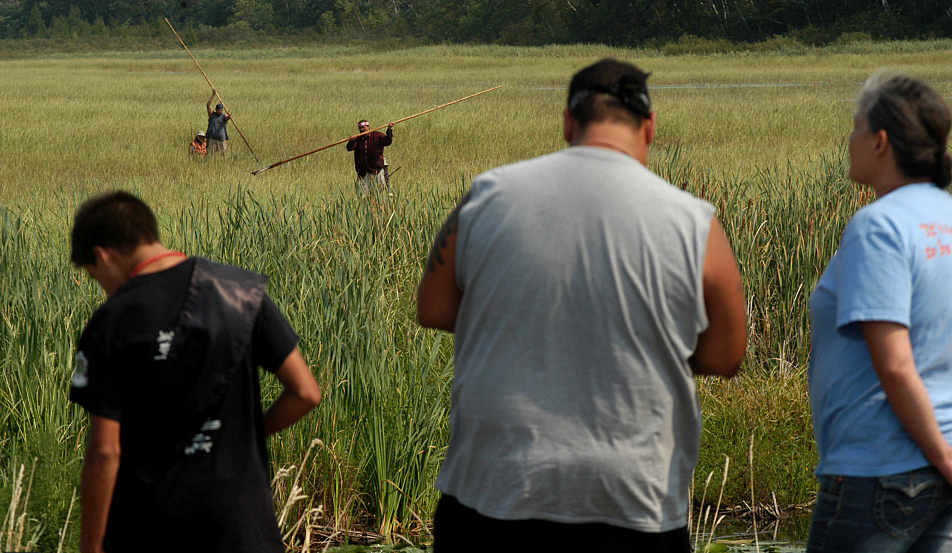 Ojibwe protesters harvest wild rice at Hole-in-the-Day Lake near Nisswa. (MPR News)
Articles and Resources:
MPR Article (2/1/16) - "Original intent? History, language blur Minnesota Indian treaty disputes"
Audio version of "Original Intent..." MPR story (8min 13sec)
MPR Article (2/1/16) - "Tribal protesters plead not guilty to illegal fishing"
MPR Article (2/1/16) - "Explaining Minnesota's 1837, 1854 and 1855 Ojibwe treaties"

MPR Article (1/8/16) - "Tribal protestors charged for gathering fish and wild rice"
1855 Treaty with the Chippewa: Full text
Honor the Earth webpage on Anishinaabe Treaty Rights
Do you like this post?