Honor the Earth is proud to announce the release of $90K in new grants to Indigenous Organizations across the US.  The grants range from the work to protect sacred ceremonial grounds and traditions to the repatriation of Ojibwe birchbark scrolls.  "This year's grants are particularly focused on protection of sacred sites, and the continuation of strong cultural traditions in our Native communities," Board of Directors Co-Chair Shannon Martin (Potawatami/Anishinaabe) said.
"We are very pleased to be able to join with communities protecting their sacred sites, encouraging and nurturing their youth, and restoring cultural traditions," Board Co-chair Paul DeMain said. These continue to be trying times for Native people, as the industrial economy, often working through some of the largest polluters in the world, continues to threaten what remains of ecosystems and watersheds. Some 75 percent of the world's biodiversity remains in Indigenous territories, and many of the most pristine watersheds remain in Indigenous territories.
Many of the organizations funded by Honor the Earth in the past have successfully stopped projects, including this year's victories over the Keystone XL pipeline (no presidential permit) and the Gogebic Taconite (GTAC) mine proposed for Northern Wisconsin.
We know it is time to protect future generations, not corporations," Kimberly Smith explained.  
"We hope there is justice for many of these communities," says Amy Ray of the Indigo Girls (Honor the Earth board member). The Shiprock Chapter of the Navajo Nation, for instance, is asking for funds to look at a water sustainability project, in light of the 3 million gallon spill into the Animas River, due to an accident caused by the Environmental Protection Agency in its testing of a mining dam superfund site. The spill released toxic water in August of this year, and the EPA has not responded to requests by the Navajo Nation. Many crops and livestock were lost throughout the Navajo Nation, as the irrigation systems had to be shut down, to protect farms from long term contamination. "
Grantees include: Apache Stronghold (San Carlos Apache Reservation), Earth Guardians (Boulder Colorado), Halau Hula Keʻalaonamaupua (Hawaii), Native American Educational Technologies (Lac Courte Orielles Reservation, Wisconsin),  Nibi Walks (Minneapolis), Horse Spirit Society (Pine Ridge Reservation, South Dakota), Water Unity Alliance (Mohawk Territory) Isle de Jean Charles Band of Biloxi-Chitimacha-Choctaw (Louisiana), the White Earth Band of Ojibwe, and many others.
GRANTEE PROFILES: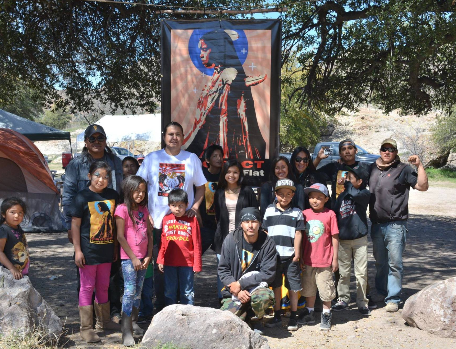 Apache Stronghold seeks to protect Oak Flats from mining by the Resolution Copper (a subsidiary of British Rio Tinto Zinc). Oak Flats is a sacred ceremonial site, where Apache Coming of Age and other ceremonies are held. Early in 2014, Senator John McCain attached a rider on a military appropriations bill, transferring this land to Rio Tinto Zinc. Since then the Apache people have been working to secure new legislation and protection of this site.
MSNBC https://www.youtube.com/watch?v=W_mWO1wVmgc&feature=youtu.be
Video by Democracy Now: http://www.democracynow.org/blog/2015/7/17/apache_stronghold_caravan_calls_to_protect
Earth Guardians, based in Boulder Colorado, is a youth-led organization addressing climate change. The organization, led largely by Indigenous rappers Xiuhtezcatl Martinez and  his little brother Itzcuauhtli, has mobilized youth to attend many conferences, secured lawsuits by youth in a number of states on climate change, and continues to encourage youth participation, in environmental issues.
Horse Spirit Society is a sponsor of the 25th annual Wounded Knee Memorial Ride, where Native and non-Native riders retrace the 200-plus mile ride of Chief Big Foot's band, which led him and his people, in the middle of December from Standing Rock Reservation to Wounded Knee, where they sought protection, and were subsequently massacred. The spiritual ride is considered a very important part of healing of Lakota and other people.
Other grants include to Nibi Walks, a set of spiritual walks around the Great Lakes and Superior to honor the water and continue Anishinaabe spiritual traditions. The Isle de Jean Charles band of Choctaw seek to develop new community plans for sustainable agriculture, after their forced removal  due to damages from the BP Deepwater Horizon Spill of 20l0, which contaminated much of their traditional homeland. And the White Earth Band of Ojibwe is presently repatriating a sacred birchbark scroll, for ceremonial and cultural purposes. The scroll had been held by the Peabody Museum at Harvard University, for over l00 years.
Honor the Earth would particularly like to thank our donors and supporters nationally, and our new partners the Mille Lacs band of Ojibwe, Shakopee, Swift Foundation, Kalleopeia, Ellen Poss, V Day and Carolyn Foundation for their tremendous support of our work and our ability to support Native communities and protection of sacred landscapes and lifeways.
Do you like this post?