In March 2016, just days before a train crashed into a propane truck and exploded in our village of Callaway, requiring a full evacuation of the town, we successfully trained 10 tribal members on the White Earth Reservation, on solar thermal technology basics and how to do solar site assessments.  We then began installing solar thermal panels on the homes of people in the village, where some folks today pay $800 a month in electric bills and 90% of the people live below the poverty level.  We have a plan: efficiency, thermal and solar.  And we do it ourselves.  After these installs, we hope to begin work on solar at the Pine Point Elementary School.  We will need help.  We will need help to begin the transition for our tribe from a fossil fuel economy, which explodes in our villages and pollutes our rice beds, to a mino bimaatisiiwin, a good life of local food and local energy; a local economy that can be a model for others.  We are also planning the next mural project for our village.   
The Anishinaabeg are not waiting for a transition to clean energy.  We are leading the way, and training our own people to do the work.  But we need your help.  Join us as we create our mino bimaatisiiwin, our good life, our good future, together.  
"...Pine Point, that's where my children and grandchildren go to school.  People paint a bad picture of our community, our housing problems, addictions, and poverty. The fact is that nothing trickles down to our village- employment opportunities do not exist, few resources are allocated and many of our people face hardships. We want to paint a different picture."   - Winona LaDuke
This summer, we started to paint. That is we started to paint houses- lived in and abandoned with giant murals. Because art is beautiful, we are beautiful and our future is beautiful.  Now we are putting solar on the houses that is solar thermal. Why, because, our people cannot afford to heat our houses, and still pay for food.  Why, because propane is a fossil fuel and solar is the power of the natural world. And why, because, we want to determine our destiny. 


Join us. We want to put 20 solar thermal panels on our houses, and paint murals in our village. Then we are going to put solar on our school.  We want to make a future for our community which is just and beautiful.  Each solar panel costs about $6000 and installed will save, maybe thirty percent of our heat. And, we will be better. We are also facing the largest pipeline company in the world Enbridge which wants to force a pipeline through our reservation. That $7 billion pipeline should not happen and it will not happen.  We know that investments need to be made for people and not for oil companies.
With $7 billion equally divided, we could: put in 116,000 typical 5kw residential rooftop PV systems, each supplying about half of the occupants electricity needs; install 580 2MW utility scale wind towers, that would generate over 3.5 billion/kwh/year; provide 290,000 homes with $8000 efficiency retrofit packages, saving $300/yr/home. Lots of jobs produced in solar, wind, and home retrofit businesses, most of them local.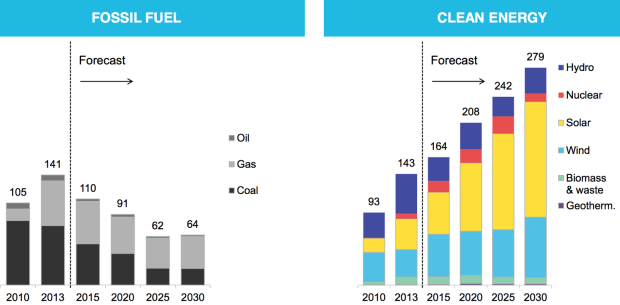 Do you like this post?